Dartmouth Crusaders Swim Club
For the strength of the pack is the wolf and the strength of the wolf is the pack
---
Dartmouth Crusaders Swim Club builds a better person through the sport of swimming.
Every action we take, every instruction we give, every goal we set and every result we desire starts from a decision about WHY we do it.
Globally we are part of the Olympic movement, and are therefore part of the Olympic vision. 'We build a better world through sport' being the core belief of Olympism." Therefore the vision of the Dartmouth Crusaders Swim Club is that ' we build a better person through the sport of swimming.'
VISION:
Discover potential, experience the joy found in effort, and reach excellence.
MISSION:
The mission of the Dartmouth Crusaders Swim Club is to provide experiences in competitive swimming that inspire our athletes to achieve their greatness.
CORE VALUES:
Our enduring beliefs that are not to be compromised for short term reward or expediency; held at the level of Principle not preference.
Respect: By this we mean valuing behaviours that: create an environment that is free from bullying, abuse or harassment; nurture a sense of belonging; and express support, empathy, and caring for others.
Leadership: By this we mean the shared responsibility of all members to create the experiences that build confidence through challenge; that value commitment, dedication, and perseverance; and that value personal contribution to legacy and building the team for the future.
Volunteerism: By this we mean encouraging and supporting swimmers and parents to be active Club volunteers through training, mentoring and meaningful volunteer activities within the Club and in the community.
Pride: By this we mean instilling a sense of self worth and of the worth of each members' contribution toward the team as a whole; taking pride in the place of the individual in the team, and of the team in the swimming community.
Excellence: By this we mean world class performance can come from anywhere. We believe the foundation can be started and essential experience built with the Crusaders.
---
Who we are...
The Dartmouth Crusaders Swim Club is a competitive club with members generally ranging in age from 8 years to 18 years and older. The Team includes novices, new to the sport and/or still learning the basic skills, who may participate in the NS Novatech competitions for swimmers learning fundamental skills. It includes age group swimmers who progress with the team and who strive for personal achievement, to contribute to their team at local, Provincial, and National level competitions. Many graduate from high school and continue to swim with varsity teams across the Country. The Dartmouth Crusaders Swim Club formed in the summer of 1970 in the Old Dartmouth YMCA building and has been based at the Dartmouth Sportsplex since 1982.
Our swimmers are supported by a commited and experianced coaching staff and a willing group of parent volunteers.
Crusaders swimmers, from the experience gained being part of a team and facing daily challenges in their sport, learn to value commitment, teamwork, well-being of each individual and the team, gratitude, personal goals and having fun. They develop friendships that last a lifetime. Each swimmer's contribution to the team is valued in return by providing an opportunity to reflect on their swimming story and to share it with the team at the time of graduation from High School.
Since its inception three Crusaders have been nominated to Canadian Olympic/Paralympic teams: Marie Moore, Andrew Haley, and Coach Bill Greenlaw. In 1997 the club placed a section of four tiles in the Sportsplex Hall of Fame to honour these achievements.
Marie Moore
1984 Olympian
(CP PHOTO/ COA/Ted Grant)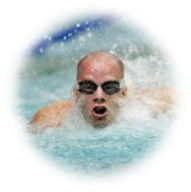 Andrew Haley
4x Paralympian (1992, 1996, 2000 & 2004)
5x Paralypic Medalist
(Photo Credit: Swimming Canada)
Many Crusaders graduates have gone on to university in Canada on academic scholarship and to the U.S. on academic/athletic scholarships.
At more recent Canada Games, Crusaders placed seven swimmers and a head coach on the 2005 Team; three swimmers on the 2009 Team; five swimmers plus an Assistant Coach and three triathletes on the 2013 Team; six swimmers and one triathlete on the 2017 Team; and most recently three swimmers on the 2021 Team.
Niara Smith - F
Sophia Deane - F
Oliver Dawood - M
The Dartmouth Crusaders Swim Club, with its instantly recognizable blue and gold colors, has been an established part of the Dartmouth community for 50 swim seasons. Our history includes hundreds of families, some of whom have seen children and grandchildren graduate from our ranks.